← Back to news index
Pete and Sue Coe – EFDSS Gold Badge Award 2016
On Wednesday 16 November Pete and Sue Coe received their Gold Badge awards from the English Folk Dance and Song Society (EFDSS) presented by the Chair of the EFDSS Board, Alistair Anderson.
Over 100 friends attended the event, which included songs and music from many of the performers that Pete and Sue have collaborated with, taught, or encouraged over careers of more than half a century of Folk song, music, and dance. Four other Gold Badge holders were among the friends attending: Bill Leader, Alistair Anderson, Derek Schofield, and Vic Gammon.
For more information about EFDSS Gold Badge awards, go to www.efdss.org/efdss-about- us/gold-badge-award.
Pete's contributions include traditional song research, song writing in traditional style, the founding of several seminal bands, plus solo and duo performances, dance calling, recording, field research, local folk activism in Ryburn Three Step and teaching at various levels. He has worked extensively in schools throughout the country as a visiting musician both on his own account and for the EFDSS on the Take 6 Project. He was the founder member and visionary force behind three particularly ground breaking groups – The New Victory Band, Bandoggs and Red Shift – all of which brought something new to the folk scene.
As well as developing a wide range of traditional songs for performance, Pete has had an illustrious songwriting career with many songs covered by other artists. His collecting of a single verse of Marching Down through Rochester with its Waltzing Matilda tune, and its subsequent expansion to a full song has made him the focus of attention by various researchers in search of the roots of the famous Australian song. Most recently Mark Radcliffe featured his rather personal Rolling Down The Ryburn on his BBC Radio 2 programme, sung by Greg Russell and Ciaran Algar.
Pete has contributed a number of field recordings including Caleb Walker (musician for Manley Morris), travellers Charlotte & Betsy Renals and Sophie Legge, and Willy Taylor. He has carried out extensive research into the work of Frank Kidson, which resulted in a touring show and a CD under the title of Five Finger Frank.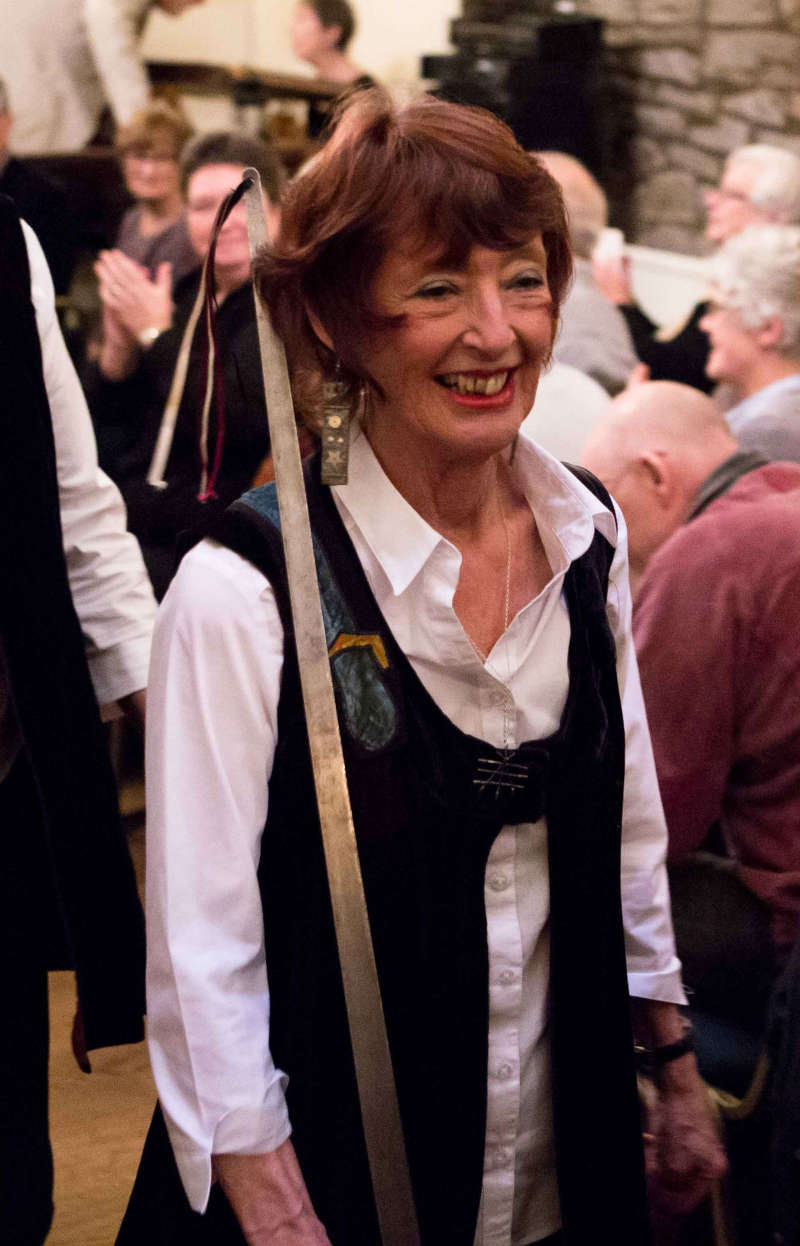 Sue successfully gained funding and promoted Ryburn Three Step in the early days as well as teaching Appalachian step dance and the Ryburn Longsword dance team, which she formed 22 years ago. As well as Appalachian dance and Longsword, Ryburn Three Step also organises a range of regular activities for local people including clog step dance classes, a singing group, an offshoot rapper side, a mummers side, monthly folk club and dances, occasional workshop days plus weekly music sessions in the local pub.
Sue led and developed Ryburn Longsword for many years, recruiting youngsters from local schools and including their mothers in the dancing, resulting in a junior and a senior team. Along with team members she developed new dances with a local flavour and has presented the team regularly at dance festivals. In addition to her ongoing Longsword and Step dance activities she now runs weekly workshops around West Yorkshire for disabled and wheelchair bound youngsters, developing dances suitable for their abilities and providing for them a very necessary inclusion.