Biography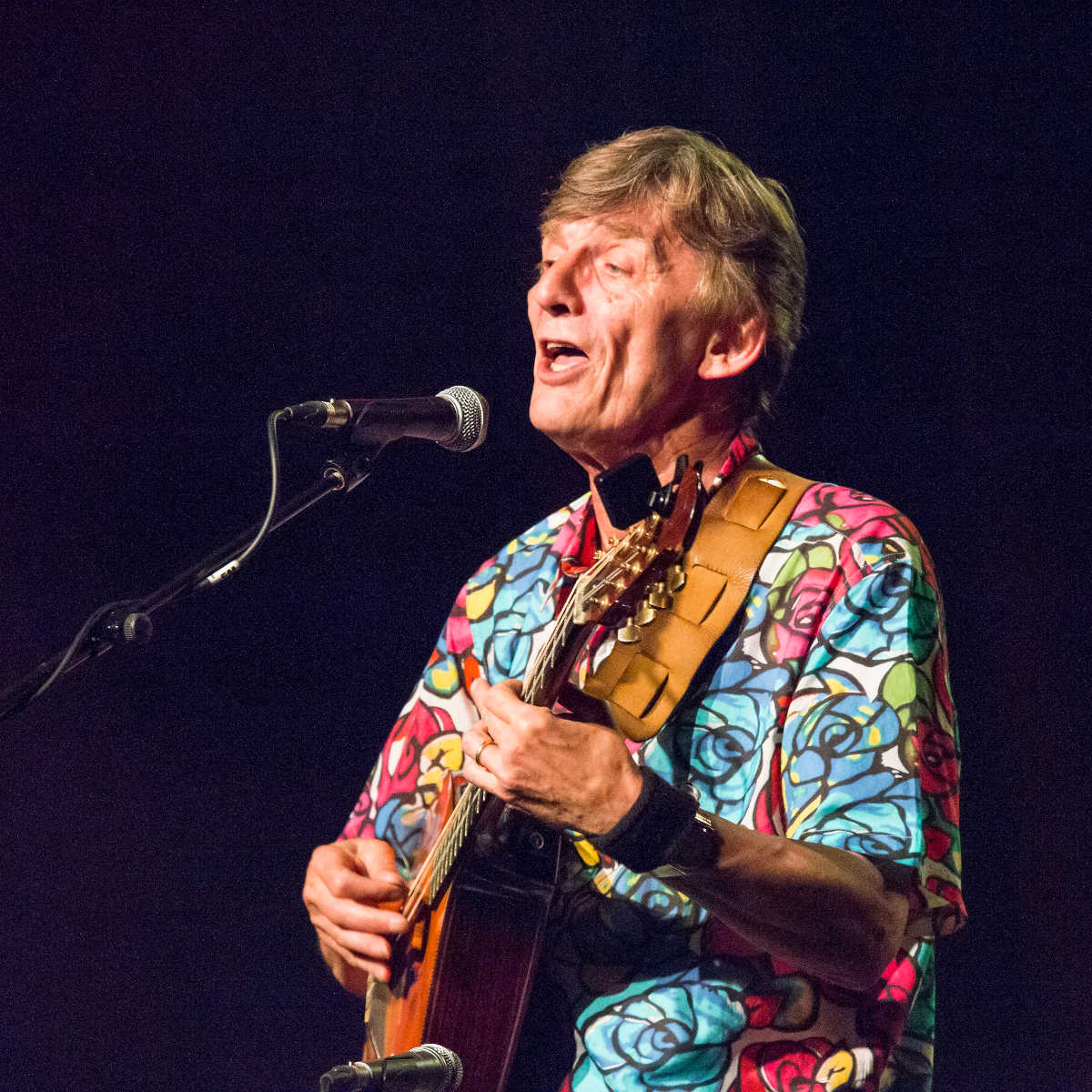 Pete Coe: A One Man Folk Industry
The following biography was taken from the original entry on The BBC Radio 2 Folk & Acoustic website, as written by Colin Irwin
If you're talking about the British folk club scene of the 1970s, then the name of Pete Coe will inevitably loom large. And if you're talking about the folk club scene of the '80s it'll loom even larger. It's prominent in the '90s too and the way things are shaping up it's a name that will continue to be synonymous with the grass roots scene through the early 2000s. Singer, ongwriter, melodeon, banjo, dulcimer and bouzouki player, bandleader, arranger, broadcaster, dance caller, teacher, step dancer, entrepreneur, folk club organiser, record label boss, sallow-faced wit, raconteur and all-round good guy, Pete Coe in many ways represents the backbone of the modem folk revival. He's been a key member of numerous significant outfits across three decades, including the much-loved duo with his then wife Chris, the wondrous dance outfit New Victory Band, folk 'supergroup' Bandoggs and political trailblazers Red Shift. Yet he's probably best known for his richly varied solo work, stretching across the whole range of the folk umbrella from the English tradition to dance tunes of many shapes and sizes to his own devastatingly potent original songs. Born in Cheshire, he first started performing at the Songwainers Club while at Cheltenham College and early on was drawn to the more obscure traditional folk songs. In Birmingham he met Chris Richards, a talented blues and jazz singer and the two started working together as Richards & Coe at Birmingham's Black Diamond Folk Club at the Drover Arms. A broadcast on Radio 2's old Folk On Friday show on Radio 2 caught listeners' imaginations and, by now married, they turned professional in 1971 as Pete & Chris Coe. The clarity of their interpretations of traditional songs, Chris Coe's stirring harmonies and some inventive arrangements quickly established them at the very forefront of the folk club scene. Pete also revealed his imaginative approach to the music becoming one of the first artists of the era to produce his own original material based on the style of the tradition when he wrote the famous Wizard Of Alderley Edge, inspired by a Cheshire legend about King Arthur waiting to be awoken to save England. Their impressive debut album Open The Door And Let Us In (1972) confirmed their brightness and originality and included other examples of Pete's enterprise, completely re-writing an old broadside about a Cheshire long-distance runner, Joseph Baker. Many people thought they were traditional songs and Joseph Baker is even listed in one songbook as a traditional Irish ballad! Pete & Chris Coe went on to become fixtures on the scene and make several fine albums through the '70s, notably Out Of Season Out Of Rhyme (also featuring Dave Burland, Tony Rose and Janet Kerr) and Game Of All Fours. By the end of the '70s the Coes became an integral part of the movement to put English dance music back on the map in defiance of the Celtic music beginning to dominate the scene. They joined the colourful New Victory Band with John and Suzy Adams, Roger and Helen Watson and lan and Linda Wordsworth, playing polkas, waltzes, jigs and reels, as well as singing the occasional music hall song. Their classic album One More Dance And Then was recently reissued with bonus tracks by Pete. In 1978 Pete they also joined forces with two of the leading solo revival singers of the day Nic Jones and Tony Rose. Based in the north with Jones in Essex and Rose in the west country made rehearsals difficult and the band was shortlived, but Bandoggs made one decent album and are remembered with great affection by all those who saw them, particularly for their outstanding version of Loudon Wainwright III's Swimming Song.
The Coes split – but remained good friends – and Pete embarked on his solo career, developing his songwriting with powerful material like It's A Mean Old Scene, The Alimony Run and Rolling Down The Ryburn. His Mean Old Scene album in 1985 also saw the emergence of his own label Backshift. In the late '80s he formed Red Shift, underlining his reputation as a political writer with songs like Sold Down The River Again and Waves Of Tory pointedly reflecting the Thatcher era.
He has since not only continued as a fine solo performer, but an energetic activist for the scene as well, founding Ryburn 3 Step, running folk clubs, dances and workshops in the Ripponden/Halifax area, while also teaching music and dancing at schools. He's still one of the most committed, most versatile, most important folk artists in Britain.
In November 2016 Pete and his wife Sue were awarded the EFDSS Gold Badge Award, see HERE for more information.
ALBUMS:
My latest CD is 'The Road to Peterloo' with Laura Smyth and Brian Peters, released on 8 June (BASH CD 65).
My recent albums include: The Man in the Red Van (Backshift 2017), Five Finger Frank (with Alice Jones, Backshift 2014), and Tall Tailes (Backshift 2011).
Earlier albums I've released include: Open The Door And Let Us In (with Chris Coe, Trailer, 1972), Out Of Season Out Of Rhyme (with Chris Coe, Trailer, 1976), Bandoggs (Transatlantic, 1978), Game Of All Fours (with Chris Coe, Highway, 1979), It's A Mean Old Scene (Backshift, 1985), A Right Song And Dance (Backshift, 1989), Long Company (Backshift, 1997), One More Dance And Then (New Victory Band, Backshift, 2000) In Paper Houses (Backshift 2004) Backbone ( Backshift 2010). I've also got a few copies of the vinyl LP "Back in the Red" (Red Shift) which was released in 1987.
Please see the Discography page for more information or if you would like to purchase any of the albums.
See Pete and Alice Jones performing one of the tracks from their "The Search for Five-Fingered Frank" CD here.